On Tuesday, 27th May, 2008, at "Avari Hotel", Karachi.
SPEAKERS
1. Pir Mazha-ul-Haq (Minister for Education-Sindh) 2. Senator Raza Rabani
3. Illahi Bux Soomro 4. Z. A. Nizami 5. Shazia Maree (Information Minister-Sindh)
6. Mir Nawaz Khan Marwat 7. Nusrat Mirza 8. Muhammad Saleem (MP-India)
9. Dr. Rahat Abrar (Aligardh India) 10. Prof. Abdul Raheem (India) 11. Brigd. A. Rehman
12. Iqbal Haider 13. Javed Siddique 14. Dr. Shahid Hassan Siddique

Speaking at Seminar in Karachi the intellectuals and scholars from both India and Pakistan including Mohammad Salim, Deputy parliamentary leader of Communist Party of India (Marxist) in Indian Lok Sabha and Dr. Manzoor Ahmed Rector Islamic University, Islamabad, Pakistan have urged that Democracy and peace were ire need for South Asian Countries of conflict has been preventing in the region and the exploitation of religion for political motives has created phenomenon of terrorism. Speakers including:
Mr. Illahi Bux Soomro Former Speaker, Mr. Raza Rabani, Pir Mazral-ul-Haq, Shazia Maree,  Z. A. Nizami, Iqbal Haider, Shahid Hassan Siddiqi, Brig. A.R. Siddiqui, Mir Nawaz Khan Marwat, Prof. Abdul Raheem & Rahat Abrar (India), Prof. Nisar Ahmed Zuberi, Adnan Adil, Javed Siddiqui & Ghazi Salahuddin, spoke in the full day seminar. Mr. Nusrat Mirza President Rabita Forum International; Leader of House in Senate (Upper of the Parliament) urged that political and other conflicting among the countries of South Asia Particularly India and Pakistan could only be settled and removed after the establishment of both countries decide to do so.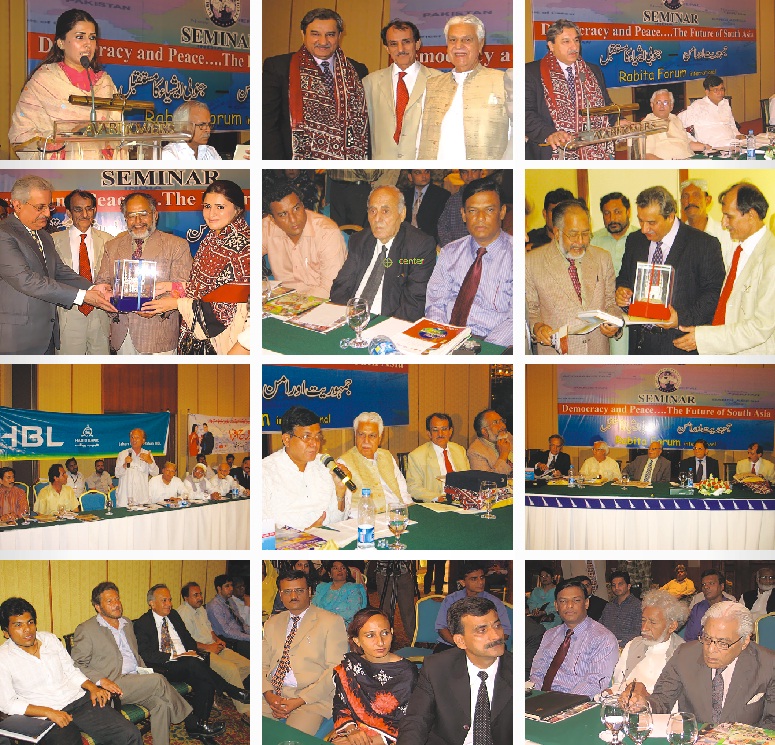 Mr. Raza Rabbani while urging lasting peace between India and Pakistan said "No War" and "No offense" agreements should adopted by both countries. Regarding democracy Raza Rabbani said that peoples and political will are must for the development of democracy.
Mr. Pir Mazhar-ul-Haq: Education Minister Sindh, who was the Chief Guest at the inaugural session of the Seminar said that peace and democracy could not sustain unless education was given proper attention and awareness is maintained among the people in particular and among the countries in general.
Ms. Shazia Maree: Information Minister of Sindh said that we have a dire need of peace and we are struggling hard to achieve democracy.
Mr. Mohammad Salim: Leader of CPI (M) in India said, while speaking on the topic left experiment in India democracy said that the communist party and the left wing thinkers and political analyst do not consider democracy as source of resolution of problems faced by the humanity like hunger poverty and unemployment but welcome democracy keeping in view that this system is still the best mode of Government.