On Friday, 15th July, 2011, at "Regent Plaza", Karachi.
SPEAKERS
1. Mr. Illahi Bux Soomro 2. Mr. Ikraam Sehgal 3. Dr. Huma Baqai 4. Mr. Nawaz Marwat
5. Dr. Huma Meer 6. Mr. Nusrat Mirza 7. Mr. Muzaffar Iqabi
In a rare issue Seminar "No to FMCT (Fissile Material cut off Treaty)" Mr. Ikraam Sehgal a renowned intellectual has said that America is most generous country, however, in the case of FMCT (Fissile Material cut off Treaty), its behavior is discriminatory towards Pakistan.
The other countries of the world has the stocks piled up with Fissile Material and India has also been given an opportunity in increase its stock through civil nuclear agreement and giving access to all organizations and groups that provide and deal with Fissile Material.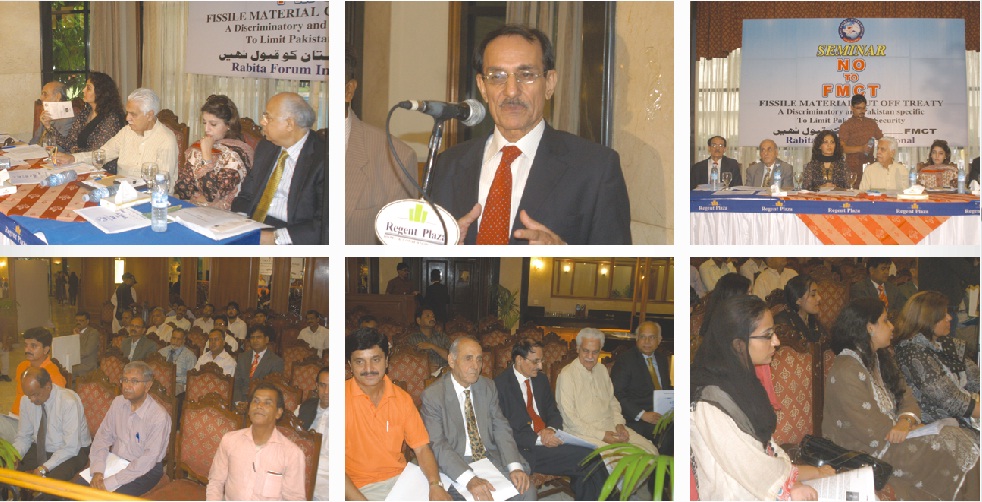 Other speakers of the Seminar, organized by Rabita Forum International, were Dr. Huma Baqai, Chairperson Department of Social Sciences IBA, Karachi, Dr. Huma Mir, Mir Nawaz Khan Marwat and Nusrat Mirza and Mr. Illahi Bux Soomro, former Speaker National Assembly of Pakistan presided over the seminar.